Better World Fashion: Sustainable Leather Jackets
A few weeks ago I went to a marketing event to do a little networking and learn more about the current industry trends, but while there, I was introduced to Better World Fashion , a pretty cool brand I thought was worth sharing with you!
Based out of Aalborg, Denmark, (the cute and small city we live in!) Better World Fashion is an incredible eco-friendly brand which won the Best For The World Environment award in 2017. What's so unique about this brand is they recycle old leather to design their line of leather jackets - a simple and refreshing concept that really makes a positive impact on our planet. They do not use water or chemicals to create their jackets which compared to industry standards is quite impressive! Everything about the jackets are from recycled material: "Our linen is made from 100% premium recycled polyester, made from reused plastics. Also, our buttons and zippers are re-melted, recycled and premium YKK hardware, exact for that purpose" Pretty cool, right?
So here's how it works in a nutshell: As mentioned, Better World Fashion only uses 100% repurposed leather and recycles it to design their own uniquely designed leather jackets and products. They offer FREE WORLD-WIDE SHIPPING (whoop whoop!) and depending on your budget, you can either lease a jacket for a monthly price or purchase a jacket with a "buy back" option. This means if you want a new jacket from Better World Fashion, they will not only take back your jacket for a new one, but you'll also get 50% off your next purchase! It's a win win for all parties - you get a new jacket and they continue recycling the leather :)
"All of our products are 98% recycled - 100% unique. Danish design produced responsibly in Poland. We have created the world's most sustainable leather jackets for women and men."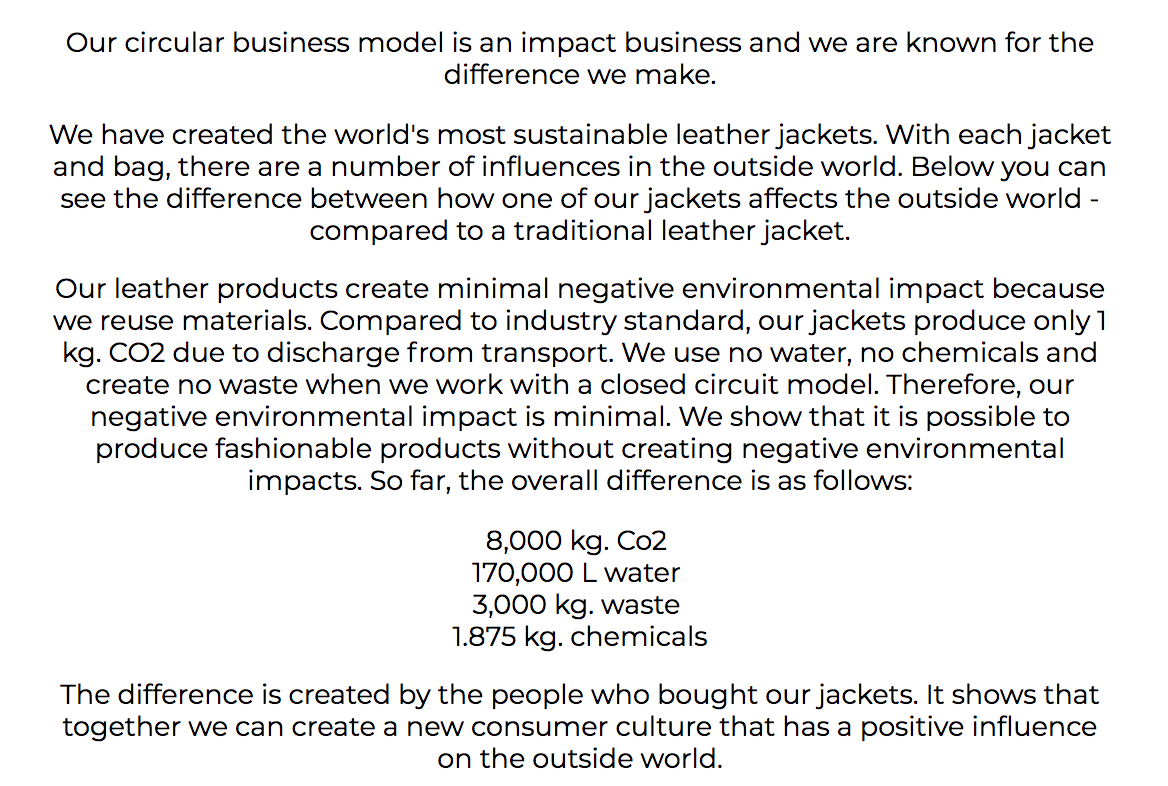 "Compared to industry standard, our jackets produce only 1 kg. CO2 due to discharge from transport. We use no water, no chemicals and create no waste when we work with a closed circuit model. "
The Jackets
What I really like about about their design is since the jackets are made from recycled leather, no two jackets are made the same. The jacket I have is called Dayana and each one in this style is slightly different in design. I layer the jacket under my winter coat and it keeps me toasty in Denmark's icy temperatures - which is much appreciated! :) I especially love the artfully thought out linings on selected jackets - it just adds a little something extra to them :)
Below are a few of the women's jackets which come in all different colors and styles. If interested in buying a jacket, then use my discount code for up to 50% OFF THE MONTH OF JANUARY 2019 for your purchase! :) See more of their collection here!
*Discount code: VMOON15
discount is for purchases only - not eligible for leases.